Ya en Agosto de 2013, con la publicación de esta noticia, podíamos sentir en el ambiente que los cambios en id Software venían muy fuertes. Y como no, si el propio fundador de id anunciaba que se unía al equipo de Oculus VR.
Según podemos leer en la última actualización de la página de Oculus Rift en Kickstarter, John Carmack ha entrado a formar parte del equipo responsable de Oculus como CTO (Chief Technology Officer o director de tecnología). Es decir, se mete de lleno en el desarrollo del producto a lo grande.
Carmack es uno de los pesos pesados de la industria. No sólo es uno de los cofundadores de id Software y el programador principal de juegos como "DOOM" y la serie "Quake", sino que también fue uno de los primeros en juguetear con los gráficos en 3D. Y en el año 2000, para rematarlo todo, abrió Armadillo Aerospace, su propia compañía aeroespacial.
La relación de Carmack con Oculus Rift no es nueva. Ha sido uno de los principales apoyos del proyecto y sigue pensando que la Realidad Virtual va a convertirse en algo importante durante los próximos años. John se trasladará a las nuevas oficinas que Oculus VR va a abrir en Dallas en cuanto estén listas. Y ya sabemos que aquel que quiera competir en el terreno de la RV va a tener en Oculusun hueso muy duro de roer.
Comunicado de Prensa Oficial:
We have incredible news to share with the community: legendary game programmer John Carmack will be officially joining the Oculus team as our new Chief Technology Officer (CTO).
John is one of the brightest minds of our generation — pioneer, visionary, and industry legend. There are very few people in the world that can contribute to the Oculus Rift and the future of virtual reality like John can.
John put together a short note for the Oculus community:
"I have fond memories of the development work that led to a lot of great things in modern gaming – the intensity of the first person experience, LAN and internet play, game mods, and so on. Duct taping a strap and hot gluing sensors onto Palmer's early prototype Rift and writing the code to drive it ranks right up there. Now is a special time. I believe that VR will have a huge impact in the coming years, but everyone working today is a pioneer. The paradigms that everyone will take for granted in the future are being figured out today; probably by people reading this message. It's certainly not there yet. There is a lot more work to do, and there are problems we don't even know about that will need to be solved, but I am eager to work on them. It's going to be awesome!"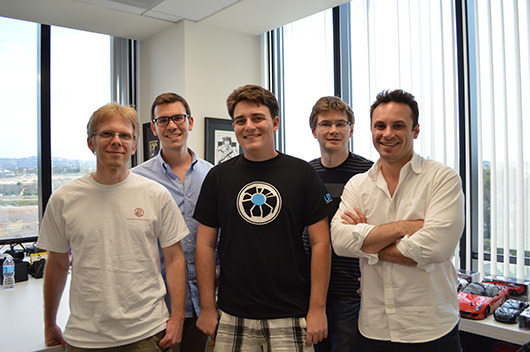 If you're unfamiliar with John's background, John co-founded id Software, served as lead programmer on Wolfenstein 3D, Doom, and the Quake series, and is one of the pioneers of 3D graphics. When John's not working on revolutionizing video games or computer graphics, he can be found coding at Armadillo Aerospace.
If you've been following Oculus since the launch of the Kickstarter campaign (or before that on MTBS3D), you know that John has been a part of the project and a true believer in the future of virtual reality since the beginning. He was the first developer to actually integrate the Rift into a game, back when the hardware was just a hand-held prototype without an SDK.
Palmer, Michael Abrash (Valve), and John discuss virtual reality at QuakeCon 2012.
John will be working from the new Oculus Dallas office that we're opening soon. We're looking for a few key hires to help us in Dallas, so if you're interested, check out the Oculus Careers page.
You can follow John at @ID_AA_Carmack on Twitter. Please join us in welcoming John to the Oculus family!
Happy anniversary to our Kickstarter backers! We've come a long a way in 1 year, and we can't wait to show you where we're headed next. This is just the beginning.
— Palmer, John and the Oculus team
Fuente: Kick Starter